Computer Network Professionals
Computer Network Professionals research, analyse and recommend strategies for network architecture and development, implement, manage, maintain and configure network hardware and software, and monitor and optimise performance, and troubleshoot and provide user support.
Fun facts
Very Strong

Future Growth

2210

Weekly Pay Before Tax

92% full-time

Full-Time Share
Tasks
There are many tasks done by computer network professionals. A few are listed below:
analysing, developing, interpreting and evaluating complex system design and architecture specifications, data models and diagrams in the development, configuration and integration of computer systems
researching, analysing, evaluating and monitoring network infrastructure to ensure networks are configured to operate at optimal performance
assessing and recommending improvements to network operations and integrated hardware, software, communications and operating systems
providing specialist skills in supporting and troubleshooting network problems and emergencies
installing, configuring, testing, maintaining and administering new and upgraded networks, software database applications, servers and workstations
providing network programming in support of specific business needs and requirements
preparing and maintaining procedures and documentation for network inventory, and recording diagnosis and resolution of network faults, enhancements and modifications to networks, and maintenance instructions
monitoring network traffic, and activity, capacity and usage to ensure continued integrity and optimal network performance
Specific occupations
Computer Network and Systems Engineer
Network Administrator
Network Analyst
Network Specialist
Network Support
Network Designer
Network Strategist
Computer Network Engineer
Computer Systems Integrator
LAN Administrator
Network Architect
Network Consultant
Women in STEM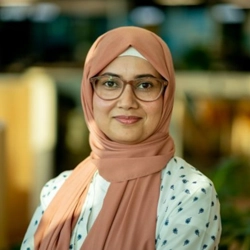 "Looking back, I can now see that a lot of my choices were, in many ways, unusual. For example, I was the first in my family to be interested in studying computer science. I was also the first to want to pursue my bachelors abroad. In high school, I decided to take the 'path less travelled'."
Associate Professor in Software Engineering