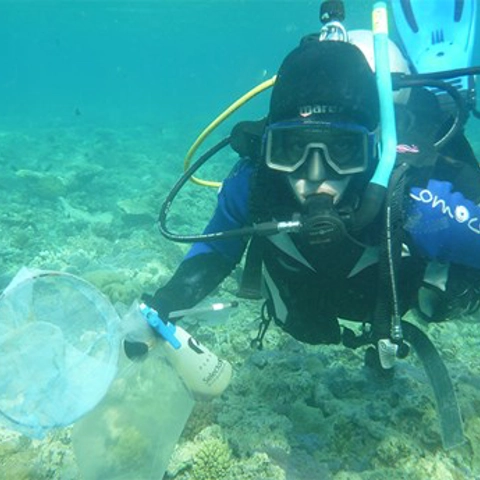 Featured profile
Cecilia Villacorta-Rath
Research Officer
"Follow your heart and dream big because everything is possible."
Show pathway
Favourite school subjects
Biology

Chemistry

Geography
Higher education choices
Career path in STEM
Casual government job within the Marine Ecology Group
Research Officer at James Cook University
All my life I have been fascinated by the natural sciences. I even remember the first time I discovered that water could turn into ice. At school, I loved biology, chemistry and geography, but I never had a clear idea in my mind about what I wanted to be when I grew up.
When I was about to finish high school my parents expected me to get a university degree, so I chose to study Fisheries because I loved the ocean. This degree was very focused on aquaculture and, although I enjoyed it, I felt that there was something missing. During the last semester of my Bachelor degree, I took a subject that changed the course of my life: Fisheries Biology.The lecturer was an active researcher who had lots of projects underway. Because I was a good student, he invited me to do Honours under his supervision.
When the journey started
My Honours year introduced me to the world of research. It gave me a bit of experience in fieldwork, project management, data analysis and writing. I came out of that year knowing exactly what I wanted to dedicate the rest of my life to: studying the ocean.
I then moved to Australia, with my my parents' help to study a Master in Marine Biology at James Cook University (Townsville, Queensland). At the beginning, I was overwhelmed because I had never lived in a different country, and alone. I had to adapt to a new language, culture, friends and university system.
I took longer than expected to finish my Master degree, but the good side of this was that it gave me the opportunity to work and volunteer for different projects where I did lots of diving and boating on the Great Barrier Reef. I got a casual job at the Queensland Department of Employment, Economic Development and Innovation (DEEDI), within the Marine Ecology Group.
My work there was to monitor seagrass meadows in central and northern Queensland. I also did some outreach in primary schools and the community, which I really enjoyed. I worked there for two years and went to beautiful places to sample seagrass and do cool things like aerial seagrass monitoring riding helicopters!
This period of my life was fun, but I started to want to lead my own research. I knew that in order to do that, I needed to get a PhD.
By now, I already knew that I wanted to carry out research applied to resource management. Then the opportunity of my life came along: a PhD to investigate genetic connectivity of lobsters in Tasmania, with the aim of providing advice to fisheries management.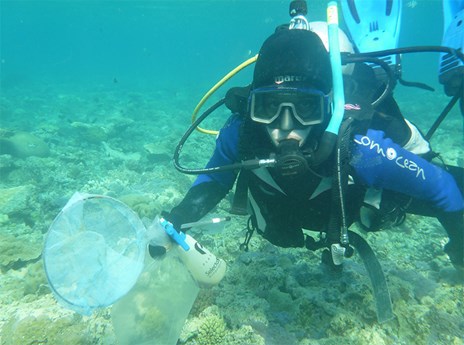 The dream started to come true
In 2013, I got a scholarship and moved to Hobart to start a PhD at the University of Tasmania. Here I was introduced into the world of genetics. Most important, though, was that I had two great PhD advisors who became my mentors. Throughout my PhD I learnt a lot from these two successful women, not only academically, but personally. By observing them, I learnt some of the skills that make a good leader.
Nearing the end of my PhD I had a baby and took some time off to take care of him. Finishing the PhD with a young baby was not easy, but I managed to do it with the help of my supportive partner.
After finishing my PhD I was fortunate enough to come back to tropical Australia to work at James Cook University. This time, I moved into freshwater research, something that I had never done before. In my current work, I apply genetic tools to monitoring the management of species of concern. I monitor the distribution of invasive species (cane toads, tilapia and aquatic plants) as well as endangered species (rainforest frogs, 'bum-breathing' turtles and sawfish) in northern Australia.
I collect water and screen it for environmental DNA (eDNA). This is the DNA shed by any organism that lives in a water body. Scientists can capture and extract eDNA from water and then screen it for presence of a particular species using genetic tags. This technique is gaining popularity because it saves lots of time in the field and it is sensitive to species that have low populations.
What I love about my work is that it is very applied to real-world problems and it involves collaborating with Traditional Owner groups and Indigenous rangers.
This job has also taken me to amazing new places and allowed me to learn about the freshwater ecosystem.
I hope that my work can motivate people to take care of the environment and I would love to mentor younger scientists who, like me, want to do their bit for the planet.