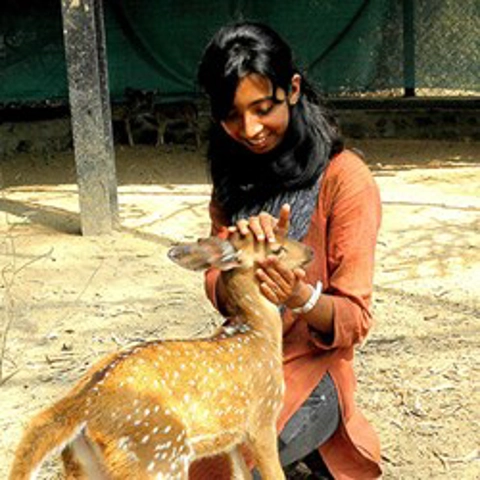 Featured profile
Janice Vaz
PhD Student
"The most rewarding part of my job is working with animals and being a voice for the voiceless"
Show pathway
Favourite subjects
Higher education choices
Undertook internships and volunteer work in Animal Conservation organisations

Bachelor of Science (Zoology and Botany)
Doctor of Natural and Animal Sciences
Career path in STEM
Janice's work seeks to engage with the community and communicate her passion for caring about animals
Most of us never get near a big cat like a lion or a leopard. Janice Vaz spends her days with them to better understand animal personality and behaviour.
Happiest around animals
If you had asked me 10 years ago what I wanted to do for a career, I'd probably have selected a mainstream job such as working in an office. Growing up in a metro city like Mumbai, my childhood was like that of any other kid in a bustling city of 18 million.
But even as a child, I had some of the traits that would later inspire my passion of working with animals. Many of my neighbours and relatives had pets, and our own pets had a very special place in our lives – they were just like another family member. When I didn't have my own pet, I'd look after others' pets. Following the footsteps of my animal-loving parents, relatives and neighbours, I was imprinted with compassion towards animals.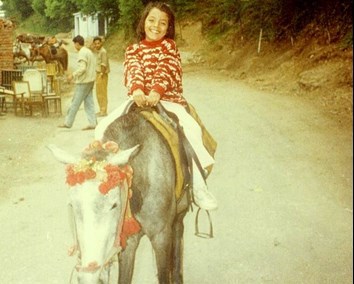 Watching animals on television was a childhood fascination which developed into something more. I studied zoology and botany for my undergraduate degree at St. Xavier's College in Mumbai and later completed a Masters in Wildlife Biology from AVC College, Tamil Nadu in India. Throughout university life, I met some exceptional teachers who were my role models. Their encouragement pushed me to undertake internships and volunteering opportunities in animal conservation.
My first internship at Dr Gadge's veterinary clinic made me realise how unique every animal is. I began maintaining a diary of all the animals that visited the clinic with a short description of them. This got me interested in animal behaviour, so much so that I began working on the subject for my Masters project.
Initially, my supervisor and I designed a project that was considered too ambitious and not feasible because it was a novel technique in India. But, with the help of an amazing team, I got some good results and it was even published in a peer-reviewed journal!
Pursuing the passion
After graduating from the Masters program, I realised that I was interested in conservation education and wanted to bring people closer to nature and wildlife. I landed a job as the Program Officer at GreenLine, a non-governmental organisation that developed outreach programs to raise environmental awareness. Watching school students less than half my age take action on environmental issues kept me motivated.
I learnt so much from these experiences and later with my close friends co-founded Project Monkey – an outdoor educational startup to engage the community to stay connected with the wild natural world. Through Project Monkey field excursions, I had an opportunity to interact with people and communicate my knowledge about wildlife to university students.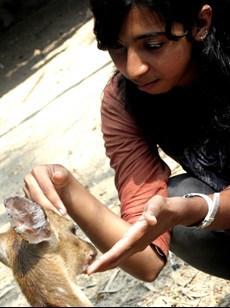 Caring for a rescued deer fawn undergoing rehabilitation
Along the way, I met so many animal enthusiasts, who became close friends and have always inspired me. I came to Australia to pursue a PhD through the Australian Government Endeavour scholarship. This prestigious opportunity let me work for animal welfare while making animal caretakers and the public aware of this important issue. My PhD project at Western Sydney University aims to use non-invasive methods to improve the welfare of big cats and improve human–animal relationships.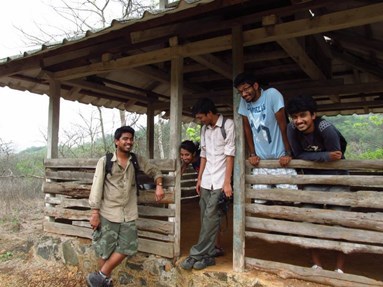 I see my current research as not only helping rescued animals but also understanding people's perception of animal welfare and how to enhance it further. I still haven't figured out everything in life, but I know for sure that I am moving in the right direction. I aspire to engage with the community and communicate my passion for caring about animals. And I can see the effects of these interactions on people around me, which makes me happy! I believe that we need to keep exploring until we find our driving passion and then take advantage of every opportunity that comes our way.