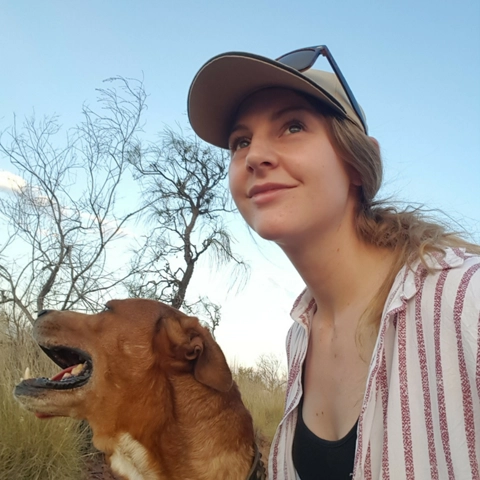 Featured profile
Kat Duncan
Locum veterinary surgeon
"Choose a career that you think you'll love, work hard and don't give up till you get there."
Show pathway
Favourite school subjects
Languages

History

Sciences
Elective choices
Biology

Chemistry

Mathematics
Higher education choices
Bachelor of Science (Zoology)
Doctor of Veterinary Medicine
Career path in STEM
Mixed practice vet (in Scotland)
Volunteer vet in developing countries

Locum vet in animal hospitals all over the world
Achieving the dream
I grew up in the country town of Albury, on the border of NSW and Victoria. I always liked being outdoors and being around animals, but didn't always know what I wanted to do for a job.
I knew I wanted to have a career that was challenging, that would help people and would have a lasting impact. When I was 13, I became interested in being a veterinarian, but my careers teacher suggested it was too hard to get a place at university so I should aim for something else. I focused instead on studying the subjects that I enjoyed, like the sciences, history and language. 
When I was 16, I started the Duke of Edinburgh's Award at my school. One component of the award was volunteering in the community, so I started volunteering with the Riding for the Disabled Association on Saturday mornings. This involved helping to care for horses and assisting disabled children as they learnt to ride. Although I was very quiet and introverted in secondary school, working with the charity encouraged me to meet new people and build skills communicating with people with disability. I loved volunteering so much that when I finished secondary school, I took a gap year and volunteered one day each week with a local Australian wildlife sanctuary – caring for kangaroos, eagles, emus and wombats.
I worked hard in secondary school and got good results, but they were not good enough to get a place in the Bachelor of Veterinary Science course at university.
Instead, I saved money during my gap year, then began a Bachelor of Science at the University of Melbourne. I still wanted to have an animal focus in my degree, so I majored in Veterinary Bioscience. I worked very hard at university, even studying extra subjects over summer semester. I also liked to travel, and took all the opportunities that I could to volunteer with animals in my holidays – working with elephants in Thailand and wildlife in Ecuador.
At the end of my science degree, I applied for a place in the Doctor of Veterinary Medicine post-graduate course at the same university. The day the offers arrived, some of my friends received offers for a place, and some were rejected – but I heard nothing. I was upset, but didn't give up – so I called the faculty. They said they didn't know if I would have a place or not. I called them and called them every week, and reminded them how much I wanted to study with them! And eventually, they called me and said they could offer me a place, I was overjoyed, I was finally going to be a vet!
By the time I graduated as a qualified vet, I had been at university for a total of six years. I was ready for a new adventure, so I moved to Scotland, and started working as a mixed vet – both with farm animals and with pets. This was a really scary decision – I didn't have any friends in Scotland, had to find somewhere to live, and was starting a new job as a new graduate! But challenging myself turned out to be a great experience – I learnt a lot about being a vet, but also about how to make new friends and adapt to new places.
Finally qualified!
After working in Scotland for two years, I finally had the skills that I needed to do what I'd always wanted to do – become a travelling vet!
With the money I'd saved as a vet, I began to work, travel and volunteer around the world. With my skills in high demand, I was able to be paid to work as a locum vet on short-term assignments in animal hospitals in Australia, Sweden, Ireland and the UK. Between work assignments, I was also able to volunteer my skills in veterinary hospitals in less developed countries, like Sri Lanka and Ecuador.
I love volunteering because it allows me to provide veterinary care to animals that would otherwise go without – but also because it's a great way to experience new places and cultures while working with local people.
In 2017, I started a website and an Instagram account about travelling, working and volunteering as a vet around the world. I wanted to inspire other vets and students to volunteer and travel, and to promote animal charities that need more help.
Advice to young women
Choose a career that you think you'll love, work hard and don't give up till you get there. Some people may not believe in you, and you may face setbacks, but if you keep working towards your goal you will never regret it! Also, do things that scare you – get out of your comfort zone, meet new people and volunteer whenever you can. It will be of great benefit to you in the long run!