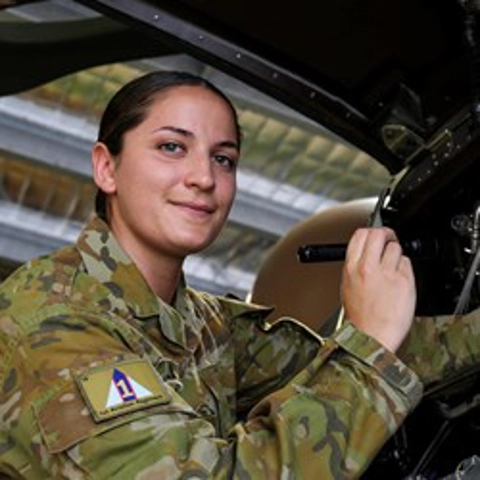 Featured profile
CAPT Louise Farrell
Captain, Aviation Maintenance Engineer
"Attend workshops, university open days and do work experience. Try to speak to your parents' friends who work in different industries to gauge what interests you!"
Show pathway
Favourite Subjects
Physics

Metals and Engineering

Advanced Mathematics
Higher education choices
Accepted into Defence Force study scholarship program
Career path in STEM
Captain in the 1st Aviation Regiment in Darwin Australian Army

Aviation Maintenance Engineer
The first spark
In year 10 my maths teacher sat me down and told me about an opportunity to attend a Women in Engineering week at the University of Wollongong. I had no idea what an engineer was at the time but thought a trip to Wollongong without my parents sounded fantastic! Luckily, my parents were very supportive. The week involved learning about the different disciplines of engineering through fun practical workshops. I met some fantastic girls who all loved maths and science as much as I did.
The mechatronics class where we built a simple robotics arm particularly sparked my interest and when I returned home, I was determined that I would one day become a Robotics Engineer.
I continued to study Advanced Mathematics, English and Physics into year 11 and 12. I wasn't the top of my class but always received consistent good grades and I really enjoyed the challenge. I studied other subjects like Modern History and a vocational course in Metals and Engineering which had me learning how to weld and use large bits of machinery alongside the boys in my class.
The uni years
I felt like I worked really hard in year 12. I was accepted into my Bachelor of Engineering majoring in mechatronics at the Queensland University of Technology, but decided to defer for one year and go exploring to build some life experience and have fun.
I worked a couple of part-time jobs for six months and then volunteered to teach English in a small town in Argentina for four months, where I was fortunate to learn Spanish. I then spent a couple of months travelling before returning home and getting ready to move to Brisbane from northern NSW to begin university.
Engineering was everything I thought it would be. It was hard and challenging but most of all it was really interesting. There were suddenly answers to how everything we use in our daily lives works, and ways I could actually make these things and improve them. Throughout my degree, I built and programmed things like line-following robots, soccer-playing robots and various computer games. I was also able to do out-of-stream subjects like science teaching and film to cater for my other interests and hobbies.
The Army
My oldest sister was in the Army while I was at university and she was absolutely loving what she was doing. She found out about the University Sponsorship program the Defence Force offers and told me to look into it.
Engineers are highly sought-after by the Defence Force, and they were offering to pay me a wage as well as the remainder of my university fees – and I would have a job on completion of my degree.
I looked into it a little further and found out that there was an opportunity to use my mechatronics degree to work with Army helicopters. I nervously applied for the scholarship, thinking it would be too competitive, but was pleasantly surprised when I received my letter of offer.
As I continued my university degree, I discovered a passion for aviation, which is where I focused my final year thesis. I studied the impact of manoeuvres on aircraft, using fixed body cameras to surveil infrastructure. As part of the project, I programmed the most fuel and time efficient automated flight paths to inspect various power lines and identify where there were overgrown trees that could cause devastating fires.
I have now been working on the Armed Reconnaissance Tiger Helicopter for four years and am currently posted to the 1st Aviation Regiment in Darwin where we have 18 aircraft. I look after the tradespeople that maintain the helicopters. Most of my daily tasks include communicating technical issues to aircrew, personnel management, problem-solving and technical risk assessments.
My engineering career in Army, while not long, has already seen me travel all over the country in support of Defence exercises and individual training. My job is exciting as it allows me to be up close and personal with aircraft every day. I feel good about being able to improve maintenance processes and find efficiencies and I have direct influence on the safety of our helicopters and the aircrew who fly them.