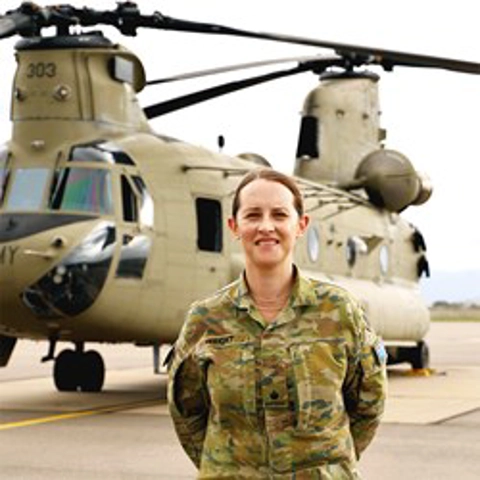 Featured profile
MAJ Krystal Wright
Major, Aeronautical Engineer
"Do something that challenges you"
Show pathway
Favourite subjects
Maths

Science

Engineering Technology
Higher education choices
Bachelor of Engineering (Aeronautical Engineering)
Master of Science (Reliability Engineering)
Career path in STEM
Krystal is the Officer Commanding the Technical Support Squadron at the 5th Aviation Regiment in Townsville

Both degrees were completed during Major Krystal Wright's 15 years in the Army
Aeronautical engineering: a career that 'ticks all the boxes'
If you told me when I was 16 that in my mid-thirties I would be in charge of a Maintenance Organisation of 180-plus personnel, responsible for one of the most technical advanced helicopters in the Australian Army, I would have laughed at you. But, that is exactly where I have found myself, and now I could not imagine a better job. Being an aeronautical engineer in the Australian Army is a unique job that has given me many experiences that I would never have imagined possible.
At school I always loved maths, science and problem-solving, and was involved in multiple committees. I also liked practical tasks and particularly enjoyed Engineering Technology. I imagined that I would become either an architect or an engineer.
After completing work experience, I knew engineering was for me. I did not come from a family that was involved in the military but, after attending an information session called Engineers in Defence, I knew it was for me.
It ticked all the boxes: problem-solving, leadership and command, hands-on tasks and travel.
Being an engineer in the Army is a unique experience that can provide many roles for employment. These include working in maintenance organisations, 'acquisition and sustainment' engineering project offices, the Defence Aviation Safety Authority, and in training and logistics planning, to name a few.
My 15 years in the Australian Army
I am currently the Officer Commanding the Technical Support Squadron at the 5th Aviation Regiment in Townsville. I am responsible for the safe and effective maintenance of a fleet of 12 MRH90 Taipan helicopters. The role is always challenging, but very rewarding. During this posting, I have had some incredible experiences. These include:
working with an amazing group of highly driven and technically qualified Army, Navy, Air Force, and Airbus (Defence Contractor) technicians and supply personnel
sitting off the east coast of Australia on the largest ship in the Royal Australian Navy, watching multiple helicopters taking off in formation at sunset to conduct an exercise and knowing that I played a key part in achieving that
assisting Australian communities during natural disasters
being deployed around the South Pacific to assist our neighbouring countries.
Before my current job, I was the Certification Manager for the CH-47F Chinook helicopter. I was responsible for making sure that all the required documentation was produced to meet Australian regulatory requirements for ADF operation of the CH-47F. This involved liaising with the United States Army and Boeing. It also involved producing reports and identifying and rectifying 'non-conformances', things not done according to set rules or standards. The best part of this job was seeing the CH-47F arrive in Australia and start its operations. Even today when I see a CH-47F flying, it's rewarding to know that I was involved in making that possible.
In my 15 years in the Australian Army, I have been given the opportunity to complete two degrees. I completed a Bachelor of Engineering majoring in Aeronautical Engineering through the University of New South Wales at the Australian Defence Force Academy in Canberra. I then completed a Master of Science majoring in Reliability Engineering at the University of Maryland in the United States.
If you are looking for a unique job, one that is rewarding and will challenge you, consider the Australian Army.
After fifteen years, I still love going to work each day and look forward to the next opportunity that Defence will offer me.